Wednesday, October 21st, 2009
Well slap my ass and call me Sally!  Marty Gervais wrote about me in today's Windsor Star.  Thanks, Marty!
Marty is a fellow photographer/explorer, and is an all-around amazingly talented and accomplished Windsorite.  He's also a friend.  Marty: you wanna do the CA stretch on the way back?  I can be more firm with dates on the way home – contact me.
In other news, I survived my first truck stop shower.  Actually it was awesome!  This truck stop has been one of the best so far.  Speedy's is right on the border of Arizona and New Mexico, and it is nestled right below some gorgeous red stone cliffs.  The wifi is free, and the showers are only $5 – and I just learned they're only $3 if you use your own towel (which I did).  They gave me a key and I had this little bathroom all to myself, with toilet, shower and sink.  Clean, lots of hot water, great water pressure… definitely worth the stop if you're on the road and need a shower.  Not gross at all.  Sorry I don't have a more seamy story about it…
You know, I wish I could really illustrate just how ridiculous my little Jeep and Aliner look parked at these truck stops (or, as the Dutch couple camped next to me at El Malpais called it, the "combination"… "you came all the way from Canada with this combination?" she asked me, in her thick accent – I had to laugh!).  Anyway, these trucks are huge and numerous, and there's little me off in the corner, looking so tiny and silly.  And look!  The triangle found another triangle!  I think it's love.
Well, I'll be… it's HAILING out!  I came into Speedy's to eat something and do work because my Aliner's battery was too low to power the computer (normally I just make oatmeal and tea in the trailer for breakfast while I work online – this is the first breakfast I've bought the whole trip).   My timing is perfect, because it started raining, then hailing, now pouring rain with thunder and lightning.  And I'm in here with no umbrella, and my Jeep's window is cracked open.  I smell a wet ass in my future. (…OMG, gross!!!!  Sorry, that was completely unintentional but so funny and over the top I'm leaving it in…)
To erase that lovely image from your minds, here's a segment of the time lapse taken while driving on the west side of the Texas panhandle.  Pretty sunset!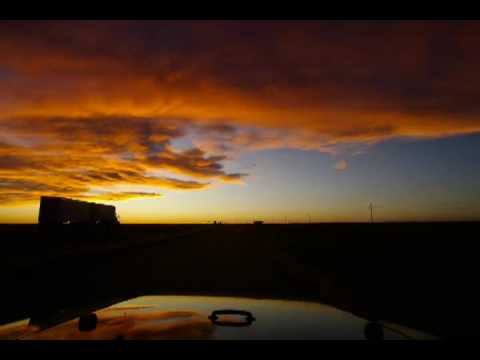 Tags: article, hail, marty gervais, newspaper, shower, speedy's, trucks, windsor star