Monday, September 28th, 2009
I've got one foot in Illinois and one in Missouri, and I'm hovering over the Mississippi River.  Where am I?
I crossed into Missouri yesterday and walked across most of the Chain of Rocks Bridge.  The bridge used to be part of Route 66 but is now open only to pedestrians.  Looking at its width, I imagine it must have been a bit scary crossing over the Mississippi on such a span – especially given that there is a tight curve in the middle of it!
For you movie buffs, this bridge was featured in "Escape from New York".  I loved walking over the Mississippi, river of so many stories… but it looked shallower than I imagined – check out the sandbar.  There is a neat bike rack on the bridge that marks the state boundary, with Route 66 shields marking both states.
Getting through St.Louis was a treat (not)… am I ever glad it was Sunday and there wasn't much traffic.  I'll talk later about a couple of frustrating things about navigating Route 66, especially while trying to keep a time-lapse camera on track when I make a wrong turn!
The weather and scenery are cooperating, and I finally started shooting some infrared.  There was some pretty cool old signage along the Route so I did a lot of stopping – not easy on roads with no shoulders and while hauling a trailer, I am discovering.  One of the things I loved seeing yesterday was how some people keep the old signs on their properties, even though the business is gone.
This one was originally a sign for a car company that was later used for a motel (see painted background and neon), and now sits on someone's front lawn.  I also loved this vintage "Trailer Court" one.
But in many cases, the signs of yesteryear are being removed to make way for the new, as seen at this trucking company.
In pursuit of showers… My friend Paul on facebook said he was looking forward to the post about the truck stop shower-to-go.  So, I stopped at a Flying J and inquired about showers.  $10!  Now, I'm not questioning their pricing scheme – a shower can certainly be worth $10 – but at that rate it seems to make more sense for me to pay a campground fee to have a shower, nicer surroundings, and water and electricity.  So finally last night I stayed at a campground.  I can't tell you how nice it is to hear leaves rustling in the trees vs. truck engines running.
A woman I met at a photography workshop lives in St.Louis, so I was happy to meet up with someone I knew.  Maureen, her husband Kevin and their two dogs Brisco and Gus, met me at Route 66 State Park just outside the city.  Part of my reason for camping was so we could sit around the fire and have a visit.  We located this campground nearby and set up camp with the new Campfire in a Can that I just received.  This thing is so cool!  The company sells "traditional" campfires-to-go as well, but I opted for the propane version since I'll always have propane on hand.  It was so easy to set up and in no time we had a lovely warm fire going.  I think these are great: they're totally portable, and you can use them anywhere you have propane – home, camping, etc.  Maureen and Kevin introduced me to Imo's, "the original St.Louis style pizza"… ACK, A SPIDER JUST CRAWLED ON ME… (sorry, this is me camping, I'll get over it) – yes, Kevin went out to get fried ravioli – which apparently originated in St.Louis – and buffalo chicken pizza, which we consumed next to the fire.  Really good.  (Sorry LaughingWeasel: no St.Louis BBQ for me – but I hear there is amazing BBQ at the Boundary in Oklahoma so I may try it there).  I created a short time-lapse sequence of us sitting by the fire using the Pclix.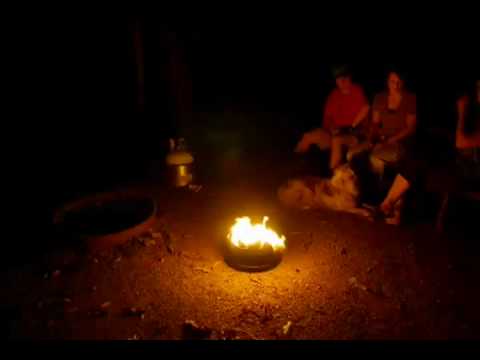 Later, I'll post about the time-lapse thing and exactly what I'm doing and what the tech setup is.  This sequence is a bit different than the Route time-lapses I'm creating in that we are stationary and the Route photos are obviously going to be moving along the road, but it gives you an idea.
There are a lot of walking sticks bugs here.  This morning this guy was crawling on the hookup panel.  They really do look like a twig, it's so neat.
Holy crap I think an eagle just flew overhead?!?  Nice.